Saint Augustine already said
"the world is a book, and those who do not travel read only one page."
What should I say besides… AGREED. If you want to, feel free to follow me on my adventures all around the world.
Who's behind the screen?
My name is Lisa-Marie, 27 years and counting, and currently living in Germany.
Besides working a fulltime job, I go to graduate school to eventually get my Master's Degree in Business Administration. Unnecessary to say that these obligations occupy most of my precious time – but whenever I do get the chance I like to act like 12 or escape reality by reading books.
What else am I into?
Chocolate. Shoes and crazy hats. Bonfires. Margharitas. Several! My Kawasaki ER6N. Disney and horror movies. Riding 4-wheelers; preferably through thick mud. Christmas. Theater acting. Harry Potter – the books, not Daniel Radcliffe. Hermione – the character as well as Emma Watson herself! Coffee. Relentless (energy drink). And really anything that gives me additional power. Long travels. Hip Hop, Pop and Reggae during summer. Rock, Skatepunk and Michael Buble's Christmas album during the winter months. Especially daddy's old vinyl records that fill MY living room with sound nowadays. Mac. Pumpkin Spiced Latte. Teacup Piggies. Burritos. Musicals. Warm socks, those made of wool. My beloved bath tub. Candlelight. White wine from Rheinhessen. TV shows. Pretty much all of them. Yay for binge watching! Dish washers. Soup. Irish Pubs. Dancing and singing – I suck at both but enjoy it nevertheless.
Looking forward to reliving my travels for and with you and always appreciating your thoughts and constructive criticism. So, please, browse through and leave some love.<3
xoxo – Lisa
Been there, done that…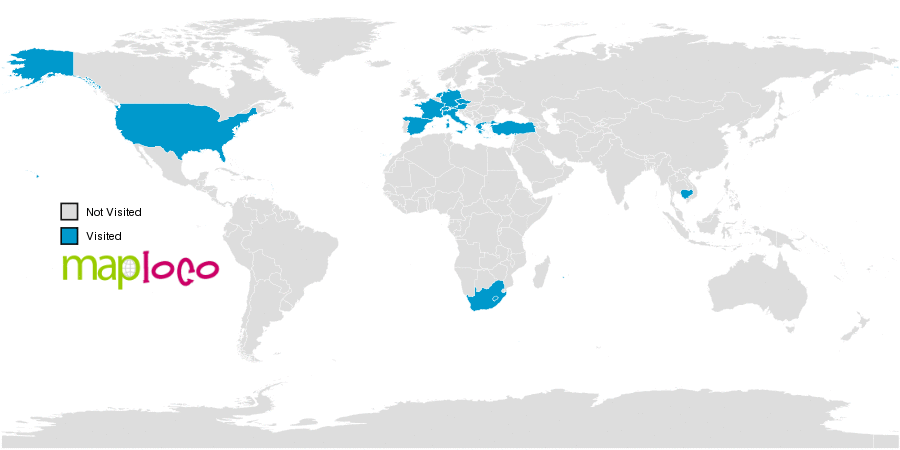 Create Your Own Visited Countries Map